Many Rivers To Cross and Backtrack to Photojournalism – Friday Night Lights
dallas sports photographer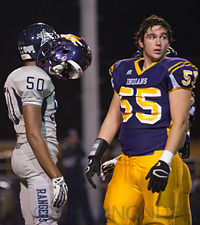 I got a call yesterday evening from the local newspaper, the Denton Record Chronicle, to see if I was available to go shoot some Friday night Texas football. As much as I wanted not to, I finally couldn't resist the pull of checking my pulse, my speed on the trigger finger, and overall conditioning. Many of these tests came as a surprise actually – overall conditioning, for the way I shoot football, is very important.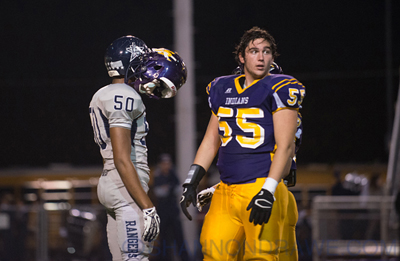 Sanger high school player looks toward sideline after his helmet gets locked onto an opponent's helmet in Friday night football action in North Texas. – Shannon Drawe Photography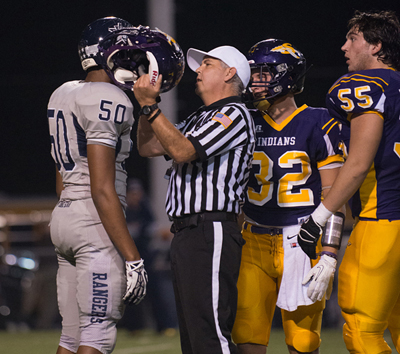 A referee works to untangle one helmet from another in last night's football game – Shannon Drawe Photography.
I survived. I even came away with a series of funny images when one player's helmet interlocked with his opponent's helmet, and they just stood there trying to figure out what to do. Funny stuff on an otherwise serious night.
I couldn't believe how much the high school football game has changed! Both teams run a no-huddle hurry-up pro football style offense — constantly. That meant I had to hurry-up as well. It was a beating like no other. I say bring back the slow deliberate huddle.
Anyway, my skills are still there, a little slow, and shooting on deadline with such huge files pushed me close to the edge, but Texas high school football photography still provides me a rush. It reminded me of my youthful addiction to adrenalin.
And I still find some action photographs hard to resist – once they are converted to black-and-white. There's a classic feel to this shot, and the background of the crowd cheering adds to the moment. –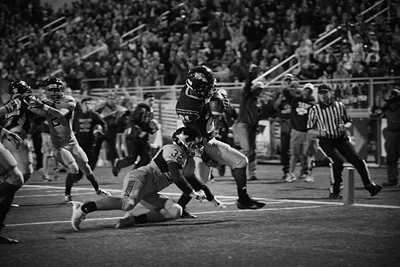 – Shannon Drawe Photography